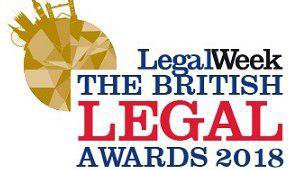 We are finalists in the British Legal Awards 'Best use of Technology' for our work with Browne Jacobson supporting their compliance training programme.
The project with the legal firm started in August 2017 when E3 was invited to pilot their unique
approach to compliance training. E3's courses use a combination of
micro-learning techniques, game loops and data-driven configuration, which meant
the was easily able to customise the training. The full module was launched
firm wide in October 2017, with both desktop and mobile versions.es. The national Awards recognise
excellence in emerging technologies and to get to this stage we have demonstrated to the judging panel the speed, agility and
effectiveness of the service.
Claire Stripp, Head of Talent and Knowledge
at Browne Jacobson commented: "The response was impressive:
people were actually chatting about their compliance training, competing to get
higher scores and enjoying it!  Over 80%
completed their training without the need for any reminder, and we saw many
retaking all or part of the course more than once as they wanted to get a
better position on the leaderboard."
According to Browne Jacobson, the E3
technology has delivered a step-change in the effectiveness
of their compliance training, the impact
was easily identified via the simple to use associated analytics. The subsequent staff
engagement results have been impressive
and have encouraged the firm to invest in
further training modules during 2018.
The winners are to be announced on the 29th November at a black-tie dinner in London. Wish us luck!